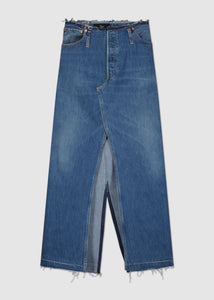 Description

Size Chart

Prime Preloved Quality

Fitting appointment
The Skirt Jeans Maxi is the newest transformation, developed from vintage Levi's Jeans. Providing a unique look and feel with its jeans-liker upper moving to a skirt opening throughout the bottom. The distressed finish at the top and bottom of the garment adds vintage value and originality, making it the perfect piece to elevate your wardrobe.  

(Re)Made in Amsterdam
100% Cotton 
Logo on the back pocket 
Variations in colour due to vintage origin 
Please not that every item is a vintage piece and that sometimes the sizes may differ from each other. Nevertheless you can always style the item to your liking!
We divide our sizes for our tops between:
Our jeans and trousers are divided by:
For more information about finding your perfect size and about how to measure your own body, Click Here.
Each of our creations is (re)made from prime vintage garments, pre-loved by aficionados in times gone by. Some items may show some age-related wear, like minor marks or losses, naturally associated with the essence of vintage.
Feel free to make an appointment for a fitting in our Amsterdam studio anytime. We're looking forward to meeting you.