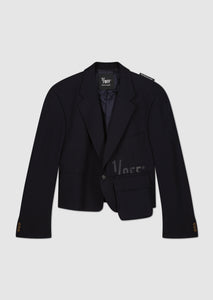 Description

Size Chart

Prime Preloved Quality

Fitting appointment
A 1/OFF staple re-imagined by our couture makers in Amsterdam. Cropped, with an added pocket for functionality, perfect layering piece or short coat for the fall weather. Offered in a midnight blue hue, up-cycled from premium blazers.
80%  Polyester, 20% Cotton
Cropped fit
100% Upcycled  
Button closure
Graphic print positioned above left pocket
Each piece is unique
Model wears a size s/m and is 175 cm

Please not that every item is a vintage piece and that sometimes the sizes may differ from each other. Nevertheless you can always style the item to your liking!
We divide our sizes for our tops between:
Our jeans and trousers are divided by:
For more information about finding your perfect size and about how to measure your own body, Click Here.
Each of our creations is (re)made from prime vintage garments, pre-loved by aficionados in times gone by. Some items may show some age-related wear, like minor marks or losses, naturally associated with the essence of vintage.
Feel free to make an appointment for a fitting in our Amsterdam studio anytime. We're looking forward to meeting you.